Nike 6.0
— 2010
A printed pocket zine for Nike 6.0 goes on-line into a device experience. Designed for early tablets, this project was created, coded and launched within 18 days, in partnership with
Norte
.
Webzine
Roles in this Project: Digital Producer, Art Director, UX/UI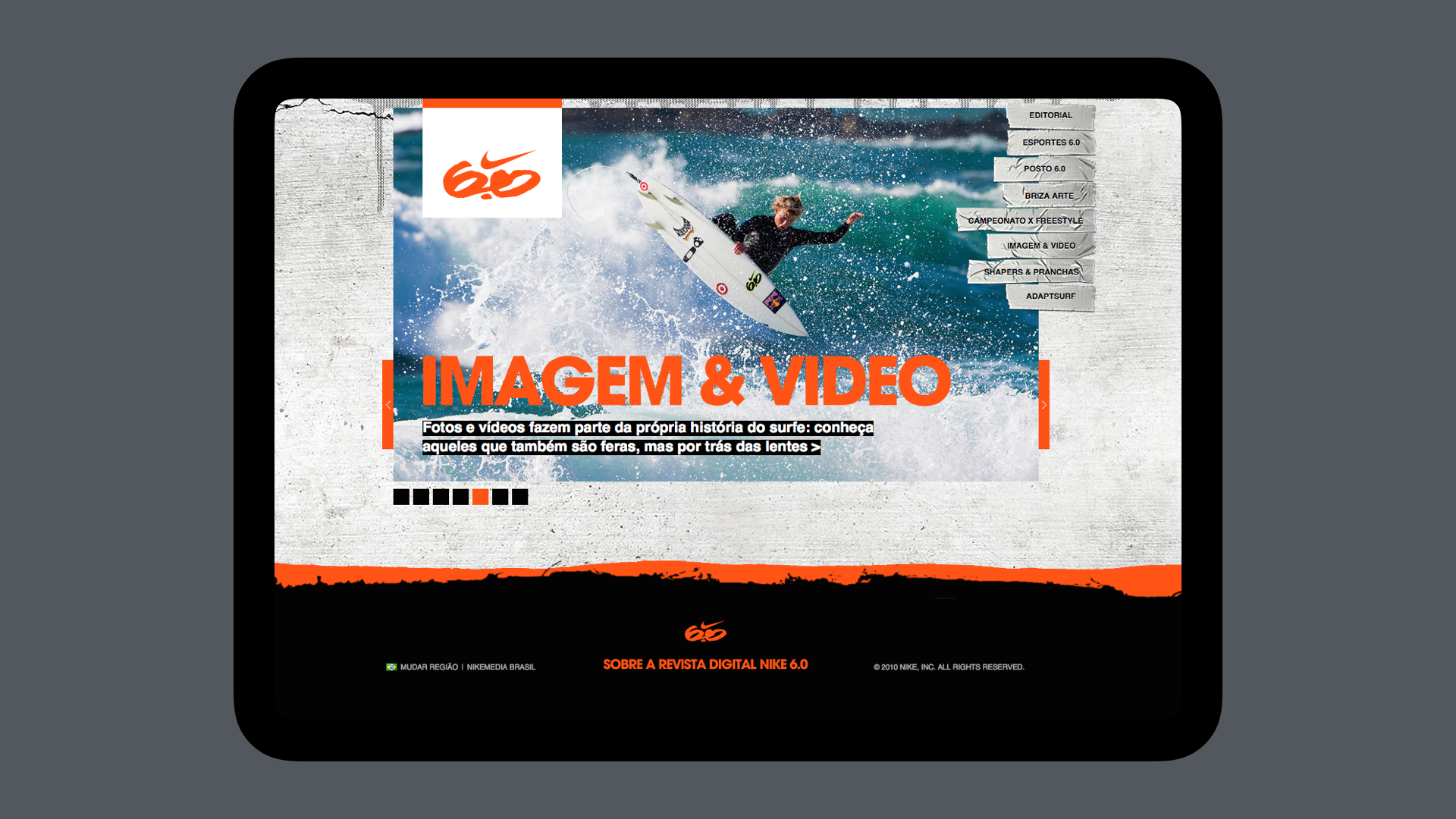 Editor/Producer: Stefan Gan
Content: Yupik Comunicação
Digital Producer: Marcos BG
Concept / UX Design: Marcos BG
UI: Marcos BG and Rafael Pequeno
Illustration: Norte
Development: Jaison Niehues
Photos: Nikemedia Brasil

The Challenge
We had roughly 2 weeks to transform an 80 pages pocket zine into a tablet-friendly digital version. Tons of professional extreme sports photos and videos, and an extensive written material to curate.

The UX Solution
The project was addressed to an event in Rio de Janeiro, so the content wouldn't be updated. To fit better in a digital version, we curate and shrink the written content to 30%, and concentrate on imagery and the best photos. Divided into sections, the content could be accessed in a one finger menu. Developed in HMTL 5, we could explore all multimedia features and accessibility tablets had at that time.

The UI Solution
Along with the content refreshing, we start to produce mockups to test the usability, the scrolling movements and the menu itself. Norte Agency brought illustrations to compose the screens. Following brand guidelines - using fluorescent colour palette, rough material concepts and strong typography - was created a customized identity for the zine.

The Outcome
Highlighting community projects and local heroes - and now in digital format - Nike could reach a whole new consumer generation in Rio de Janeiro.