---
Gentil Memória

Vol. 1
Catalogue and Expo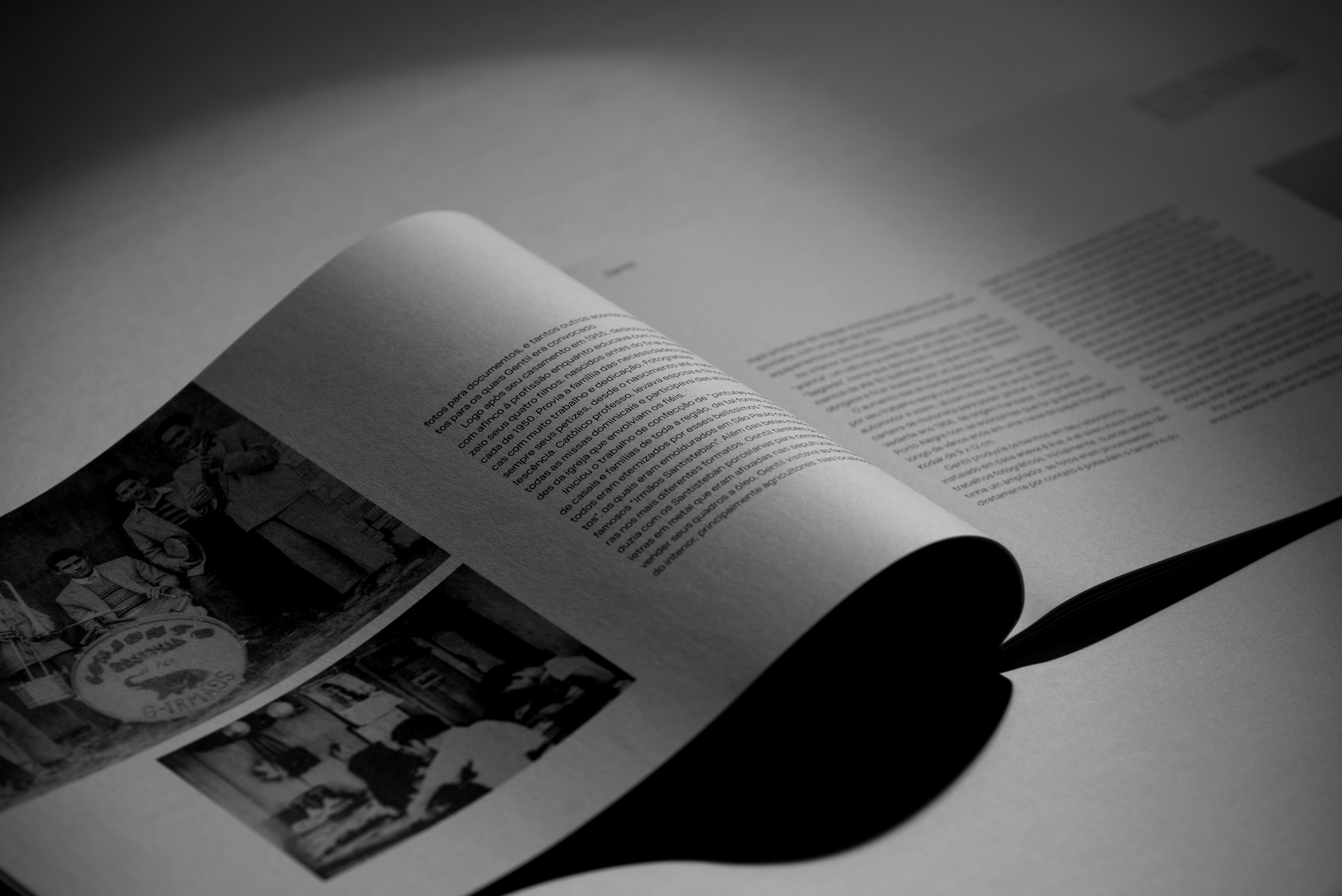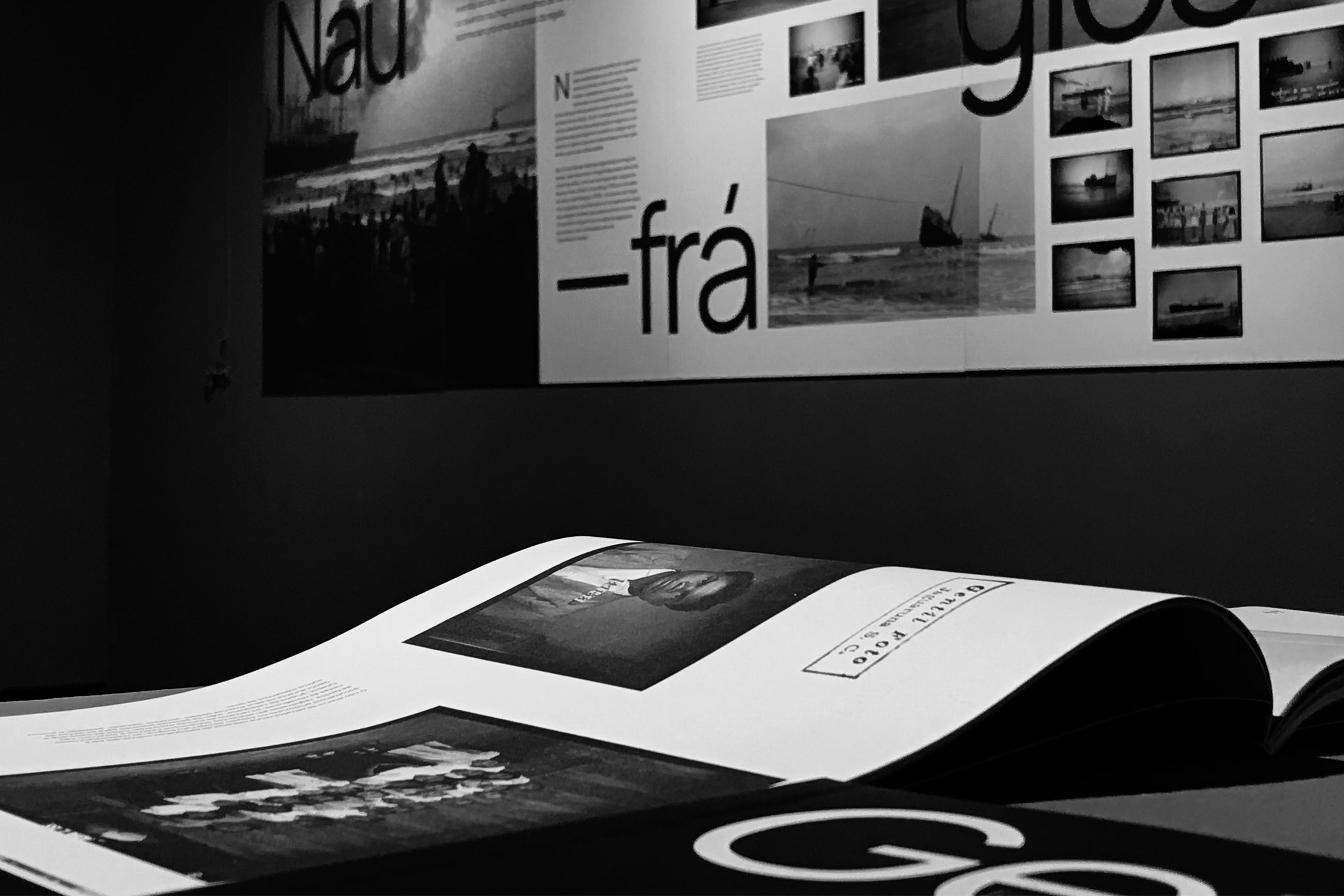 2020 — Graphic Design, Editorial, Curatorship
This booklet supports a restoration project about the history of Jaguaruna, Santa Catarina - Brazil, through the lens of photographer Gentil Reynaldo between 1940 and 1980.

The archive has an estimated 80.000 film negatives and 300 old silver nitrate glass photo plaques yet to be discovered.

A softcover 56-page catalogue printed in black and white on offset paper was produced for the first expo.

The expo graphic design follows the same language as the catalogue, but wider spaces are properly filled with compelling content.

---
Lacoste
French Evolution
Website Portal
2011 — Digital producer, Art director, UI Designer
'Evolução Francesa' was the brand behind the content strategy of Lacoste in Brazil. Successfully turned over their blog into a fashion curatorship portal, recreating all content showcase and management.

Some backgrounds, typography and home arrangements For the first approval rounds.
The goal was to turn their successful in-house blog into an online portal, with constant updates from countless featured collaborators (stylists, designers, bloggers, photographers and trendsetters). Live agency provided a complete prototype with features based on their UX research and a set of new functionalities.
We brought some ideas for the navigation like a fixed menu instead of tabs, modular content stacks, fluid random arrangements for home and inner pages. Was 2011, so we also worked on social media integration. As the project got bigger, it required rethink all content management and permission levels.
In the backstage a WP engine was elected to run the new platform with the capacity and flexibility the project required. Front and Back-end powerfully integrated by detailed levels of permission, providing total control over content and form.
A customized simplified CMS and an entirely new front-end interface ready for massive updates. The website was the main brand channel of Lacoste in Brazil until 2014.
The final screens with the internal unfolding modules.



Agency: Live
Creative Director: Mauro Silva
Creative Manager: Pedro Perurena
Producer: Marcus Vinícius Lopes Martins
UX/Usability: Fernando Maciel
Digital Producer: Marcos BG / WNOVA
Brand Design: Hardcuore
Artist Representation: Norte
Art Direction: Marcos BG
Concept: Nelson Balaban / Norte
UI Design: Marcos BG / Nelson Balaban
Development: Jaison Niehues / WNOVA




---
2010 — Digital Producer, Art Director, UI Design
A printed pocket zine goes into a device experience. Designed for early tablets, this project was created, coded and launched within 18 days.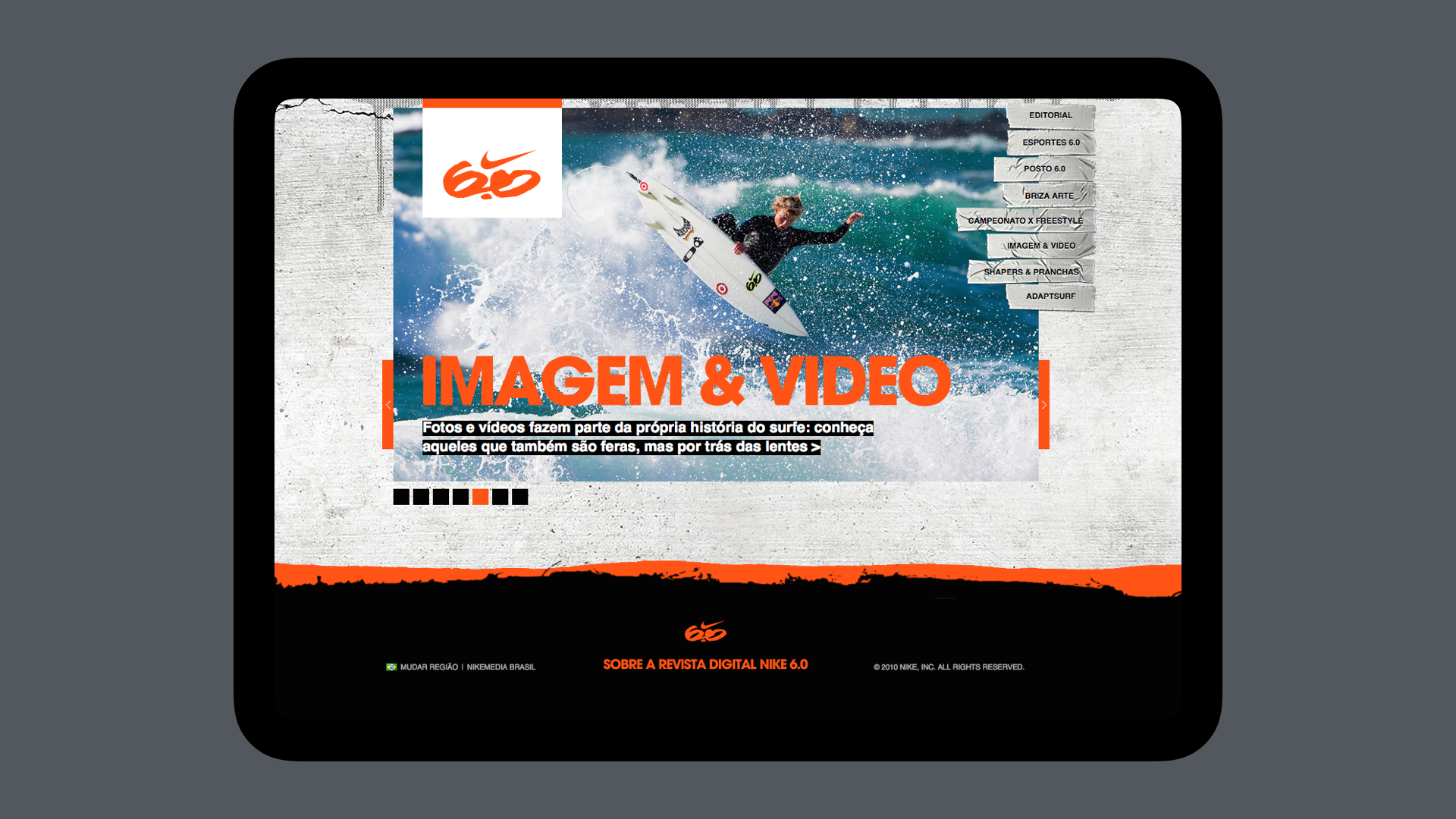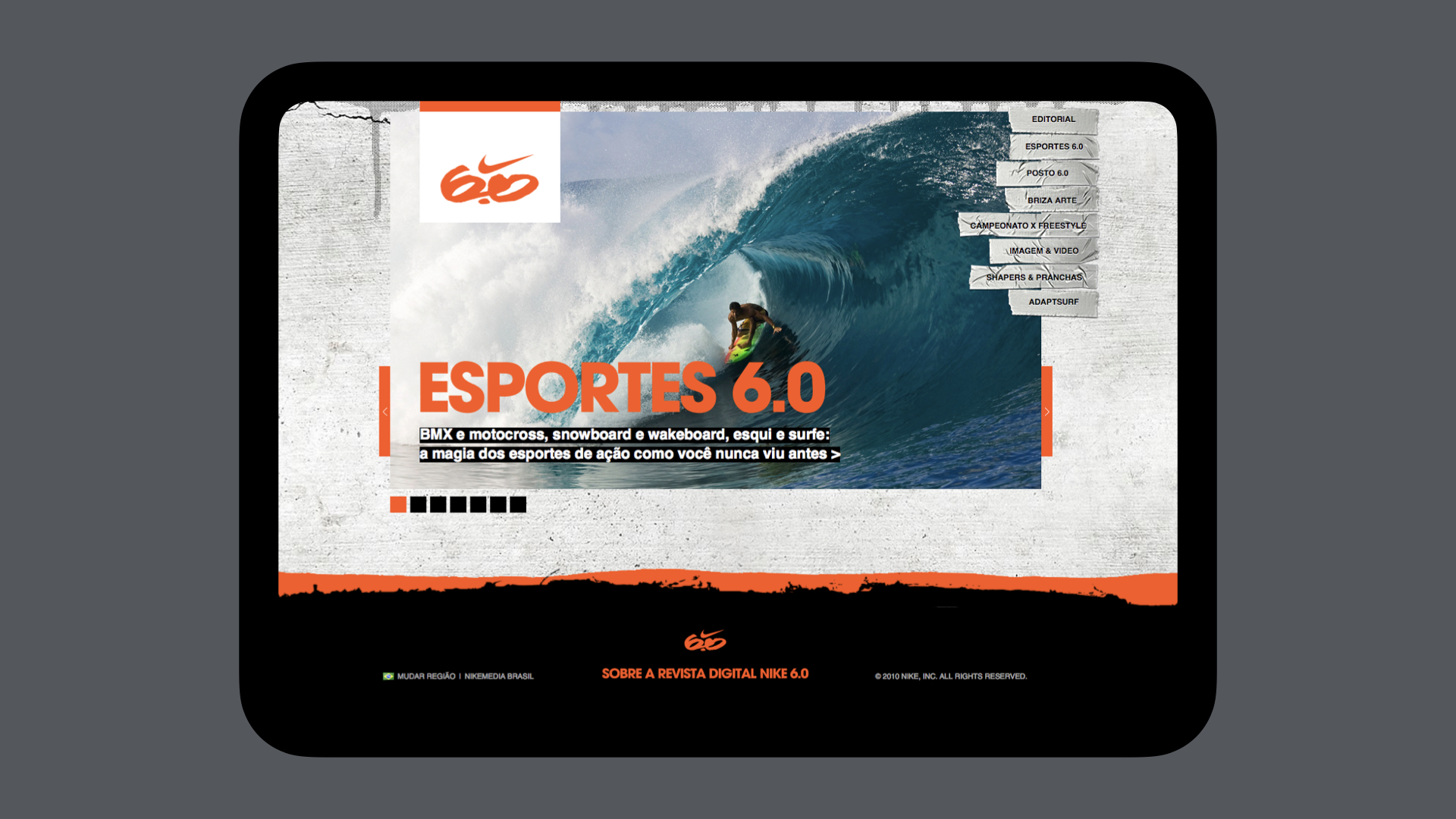 The Challenge

We had barely 2 weeks to transform an 80 pages pocket zine into a tablet-friendly digital version. Tons of professional extreme sports photos and videos, and an extensive written material to curate.

The Content Management
The project was addressed to an event in Rio de Janeiro, so the content wouldn't be updated. To fit better in a digital version, we curate and shrink the written content to 30%, and concentrate on imagery and the best photos. Divided into sections, the content could be accessed in a one finger menu. Developed in HMTL 5, we could explore all multimedia features and accessibility tablets had at that time.

The UI Solution
Along with the content refreshing, we start to produce mockups to test the usability, the scrolling movements and the menu itself. Norte Agency brought illustrations to compose the screens. Following brand guidelines - using fluorescent colour palette, rough material concepts and strong typography - was created a customized identity for the zine.

The Outcome
Highlighting community projects and local heroes - and now in digital format - Nike could reach a whole new consumer generation in Rio de Janeiro.

Editor/Producer: Stefan Gan
Content: Yupik Comunicação
Digital Producer: Marcos BG
Concept / UX Design: Marcos BG
UI: Marcos BG and Rafael Pequeno
Illustration: Norte
Development: Jaison Niehues
Photos: Nikemedia Brasil




---
A Pedra e o Farol

Independent Documentary Feature Film

2016 — Film Editor, Assistant Director,
Art Director, Color Grading, Camera,
Sound Designer

'The Lighthouse and the Stone' — In this journey with director Luciano Burin, our aim was to reveal the intriguing relations between the legendary Santa Marta lighthouse and the 'Campo Bom' ocean slab, located in South Brazil.

An independent feature-film documentary awarded in festivals around the world and broadcasted on national television in Brazil.



Directed and written by: Luciano Burin
Film editing by: Luciano Burin e Marcos BG

Production assistants: Guilherme Reynaldo, Marcos BG, Luis Henrique Tavares
Production management/ Minc: Marcos Braga - Art Prime
Executive production: Luciano Burin e Tiago Naccari

Cameras: Antonio Zanella, David Mendonça, Guilherme Reynaldo, Luciano Burin, Marcos BG, Marcos Vinicius D'Elboux, Pietro Franca, Rafael Ribeiro
Sound design: Leonardo Costa Gomes, Luciano Burin e Marcos BG
Sound editing and Mixing: Leonardo Gomes
Sound mixer: Luciano Burin
Original soundtrack: Guilherme Vieira da Silva, Lucas Garcindo, Manuel Cabral, Luciano Burin
Color grading: Marcos BG
Assistant director: Marcos BG



Best National Feature-Film
Mimpi Film Fest
Rio de Janeiro — Brazil 2016



🌿


Sustainability Award
Surf at Lisbon Film Festival
Lisbon — Portugal 2016