Marcos BG

Senior Designer
My job is to decode complex communication needs into projects built to last.

I collaborate with the
LogoArchive Int'l
program alongside a talented global team running the
LogoArchive Brazil.
Currently open for work across UK and EU. Thanks for visiting ︎ Keep scrolling.
Selected
✹

Works

✸

Selected

✸

Works

✷
Keep Scrolling
✹

Keeeeep Scroooooooooooolllling

✷
LACO
STE

— WEBSITE PORTAL


French Evolution
2011 — Digital producer, Art director, UI Designer
'Evolução Francesa' was the brand behind the content strategy of Lacoste in Brazil. Successfully turned over their blog into a fashion curatorship portal, recreating all content showcase and management. Working closely with
Live
and
Norte
agencies, we designed and coded from content management system to interface, an entirely new end-to-end product.
Some backgrounds, typography and home arrangements tested for the first approval rounds.
The Challenge
The goal was to turn their successful in-house blog into an online portal, with constant updates from countless featured collaborators (stylists, designers, bloggers, photographers and trendsetters). As the project got bigger, it required rethink all content management and permission levels.
The IT Solution
Live agency provided a complete prototype with features based on their UX research and a set of new functionalities. We brought some ideas for the homepage like menu instead of tabs, modular content stacks, fluid random arrangements for home and inner pages, and social media integration. In the backstage a WP engine was elected to run the new platform with the capacity and flexibility the project required. Front-end and Back-end powerfully integrated by detailed levels of permission, providing total control over content and form.
The user interface
Norte Agency indicated the designer Nelson Balaban to create the UI concepts and backgrounds. Lacoste gave us freedom, so we drove a serious pack of options until we decide along with the agency for a definitive style. A very simplified and sharp version was elected to go live. The inner pages design inherited the modular grid style structure to accommodate the new loads of content. Visually, the background simulates subtly pixelated sew lines over gradients. The whole idea is highlight the content using modular shapes.
The Outcome
A customized simplified CMS and an entirely new front-end interface, now ready for massive updates and completely manageable. The project was live for almost 3 years and was the main channel between Brazilian creatives and the Lacoste brand.
Agency: Live
Creative Director: Mauro Silva
Creative Manager: Pedro Perurena
Producer: Marcus Vinícius Lopes Martins
UX/Usability: Fernando Maciel
Digital Producer: Marcos BG / WNOVA
Brand Design: Hardcuore
Artist Representation: Norte
Art Direction: Marcos BG
Concept: Nelson Balaban / Norte
UI Design: Marcos BG / Nelson Balaban
Development: Jaison Niehues / WNOVA
The final screens with the internal unfolding modules.
some home screen modular arrangements going live.

NIKE
6.0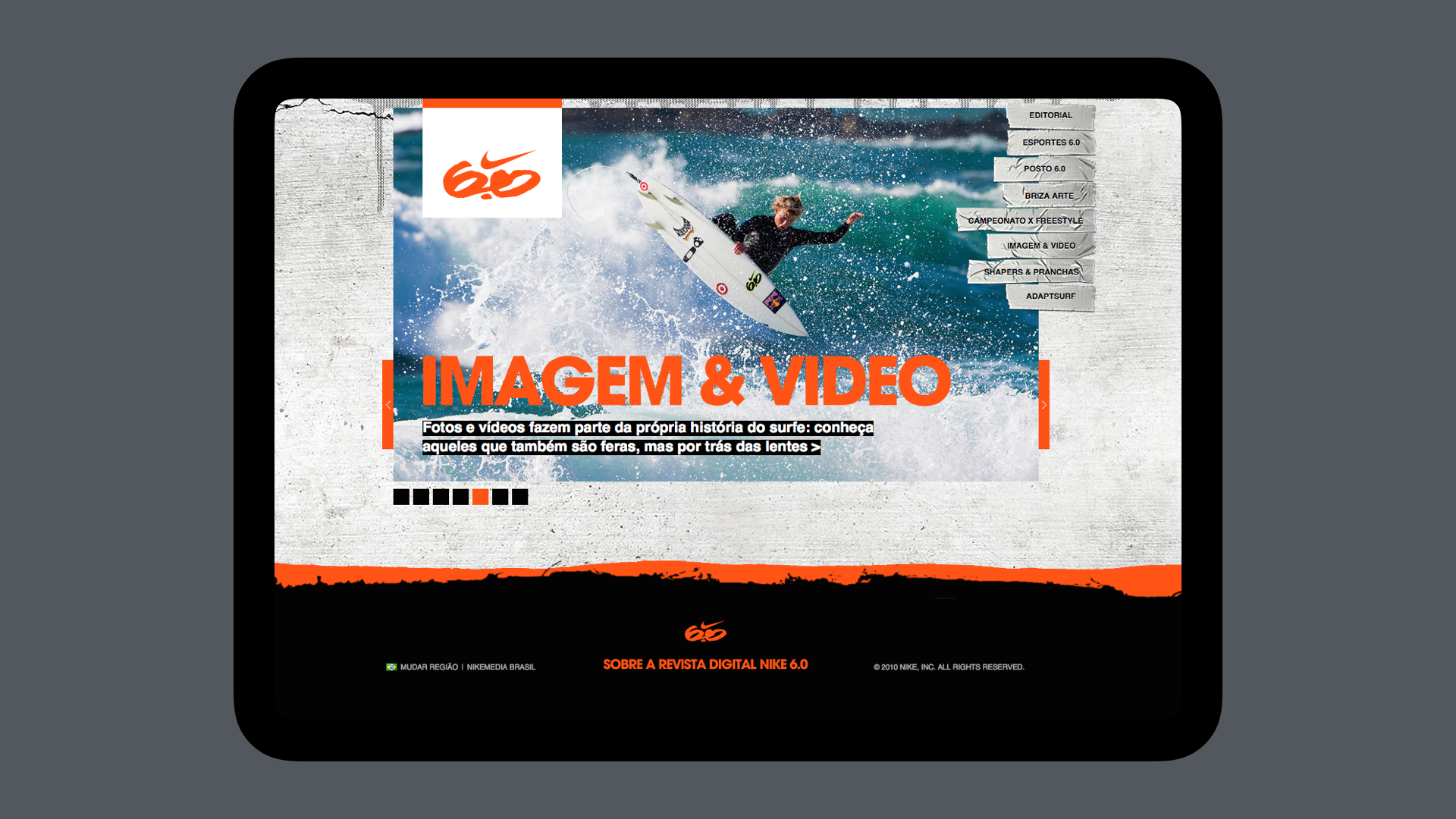 2010 — Digital Producer, Art Director, UI Design
A printed pocket zine goes into a device experience. Designed for early tablets, this project was created, coded and launched within 18 days.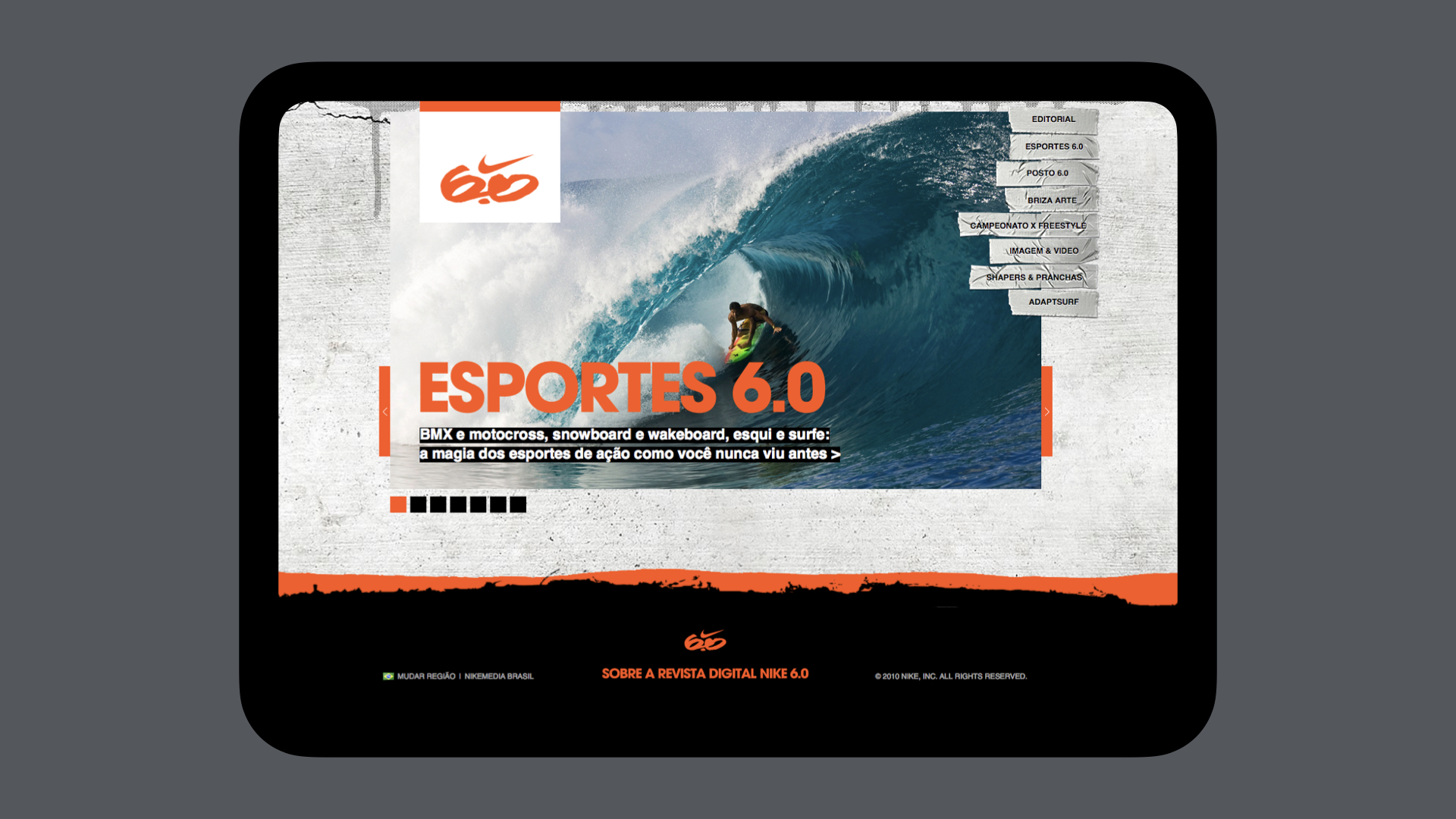 The Challenge

We had roughly 2 weeks to transform an 80 pages pocket zine into a tablet-friendly digital version. Tons of professional extreme sports photos and videos, and an extensive written material to curate.

The Content Management
The project was addressed to an event in Rio de Janeiro, so the content wouldn't be updated. To fit better in a digital version, we curate and shrink the written content to 30%, and concentrate on imagery and the best photos. Divided into sections, the content could be accessed in a one finger menu. Developed in HMTL 5, we could explore all multimedia features and accessibility tablets had at that time.

The UI Solution
Along with the content refreshing, we start to produce mockups to test the usability, the scrolling movements and the menu itself. Norte Agency brought illustrations to compose the screens. Following brand guidelines - using fluorescent colour palette, rough material concepts and strong typography - was created a customized identity for the zine.

The Outcome
Highlighting community projects and local heroes - and now in digital format - Nike could reach a whole new consumer generation in Rio de Janeiro.

Editor/Producer: Stefan Gan
Content: Yupik Comunicação
Digital Producer: Marcos BG
Concept / UX Design: Marcos BG
UI: Marcos BG and Rafael Pequeno
Illustration: Norte
Development: Jaison Niehues
Photos: Nikemedia Brasil